The N-EWN Knowledge Series
The Network for Engineering with Nature (N-EWN) invites you to join a monthly continuing education series about best practices, cutting-edge research, and the latest developments in the field of natural infrastructure. Continuing Education Credits (1-hr) are available to all attendees who join live or watch recorded seminars below. Register for upcoming seminars.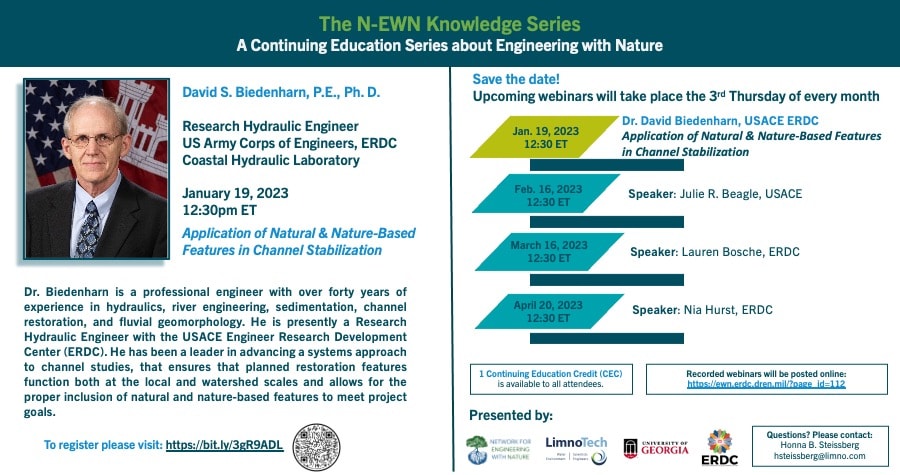 Recorded Seminars
January 2023 – Application of Natural & Nature-Based Features in Channel Stabilization
Guest speaker, Dr. David Biedenharn, is a professional engineer with over forty years of experience in hydraulics, river engineering, sedimentation, channel restoration, and fluvial geomorphology. He is presently a Research Hydraulic Engineer with the USACE Engineer Research Development Center (ERDC). He has been a leader in advancing a systems approach to channel studies, that ensures that planned restoration features function both at the local and watershed scales and allows for the proper inclusion of natural and nature-based features to meet project goals.
December 2022 – Dam Removal Prioritization with Multiple Objectives
Guest speaker, Laura Catherine Naslund, is a PhD candidate in the Odum School of Ecology at the University of Georgia. Her current research examines the contribution of small dams and their reservoirs to greenhouse gas emissions from freshwaters.
Proactive and transparent decision making about the long-term management of dams is critical for successfully managing this aging infrastructure and presents an opportunity to apply Engineering with Nature principles to the end of the infrastructure lifecycle. This webinar will provide an overview of the state of dams and dam removals in the US, present results from the review of existing decision support tools and introduce a web application developed to support structured decision making for dams.
Guest speaker, Eddie Brauer, is a senior hydraulic engineer in the USACE St. Louis District (MVS) and regional technical specialist in river engineering for the Mississippi Valley Division. He has 19 years of project experience, which includes navigation; environmental restoration; research on river-training structures, including physical effects and environmental impacts; sediment transport; geomorphology; field methods; and lock design on rivers within the U.S., South America, and Europe. He has developed and led classes on shallow draft navigation and river-training-structure design and construction (including EWN topics) for engineers in the U.S. and Brazil. He is a member of the USACE River Engineering Committee, the chair of the River Engineering Working Group, the secretary of the World Association for Waterborne Transport Infrastructure (PIANC) Environmental Commission, and an adjunct professor at St. Louis University.
Guest speaker Matt Chambers, of the University of Georgia, discusses modeling studies that he and his colleagues have performed which suggest significant hydraulic benefits in idealized streams and on the Wabash River. This research is being translated into practice on the Lower Missouri River in partnership with the USACE Omaha District, ERDC, and local levee district managers. Concept realignments reconnect 2,000-8,000 acres of floodplain and, if the project moves forward, could result in a setback that is significantly larger in scale than previous projects. This webinar provides an overview of the setback project, potential realignments to maximize hydraulic and conservation benefits, design relative to the historic 1890's channel, and design relative to patterns in historic breaching.
Guest speakers, Dave Hampton (LimnoTech) and Burton Suedel (ERDC-EL), presented EWN® highlights from the March 2022 symposium: Basin Sediment Management for Unique Island Topography: From Mountain to Estuary, featuring lessons learned from site visits throughout the Añasco River watershed and exploring exciting opportunities for green infrastructure (GI), Low Impact Development (LID) and tropical island EWN® interventions designed to minimize the impacts of storm events.
Dr. Matthew Bilskie, Assistant Professor with University of Georgia's College of Engineering and Director of the Coastal Ocean Analysis and Simulation Team (COAST) continues last month's discussion on CSTORM, the Engineering With Nature® Toolkit for ERDC's Coastal Storm System. This month's N-EWN webinar focuses on the environmental side with predicting the benefits of flood protection for nature-based features (NBF) and how these features can attenuate flooding.
The common method used to calculate Benefit-cost analysis does not incorporate the often-times greater long-term benefits of natural infrastructure (NI) over conventional approaches, putting the selection of NI at a disadvantage. Several groups are moving toward an ecosystem services approach to identifying benefits that people obtain from ecosystems including the European Union, the Environmental Protection Agency and the U.S. Army Corps of Engineers. Dr. Ben Blachy gives a summary of a technical report on Benefit-cost analysis and how this computation is used to prioritize projects and choose between options.
In this webinar, Dr. Amanda Tritinger discusses CSTORM, the Engineering With Nature® Toolkit for ERDC's Coastal Storm System, a toolkit developed to combine natural and nature-based features into existing numerical models.
In 2009, the tidal waters of Puget Sound breached the Brown Farm Dike in efforts to restore the Nisqually Delta. This was the culmination of the largest tidal marsh restoration project in the Pacific Northwest. Daniel Krenz, regulatory section chief and project manager with the USACE Seattle District, discusses the history of the Nisqually Delta, restoration planning, pre- and post-restoration monitoring efforts as well as lessons learned.
This webinar focuses on the relationship between Biodiversity and its conservation and Infrastructure and related disciplines, why this is important for today's challenges, what this relationship looks like, how it has changed, and what it will look like in the future. Dr. Charles B. van Rees addresses what we can do as professionals to address these issues.
Technically sound, efficient and applicable methods are needed to track natural infrastructure performance over time, develop the evidence base for future designs, ensure compliance with policy, and inform project operations and adaptive management. Dr. Safra Altman discusses a holistic monitoring framework for natural infrastructure, the specific considerations for monitoring before and after extreme events, and outlines an example in coastal Mississippi. Also check out this EWN podcast with Dr. Altman, Adding Value to Climate Change Initiatives.
Natural and nature-based features (NNBF) provide a diverse suite of benefits to society, including flood risk reduction, socio-economic development, water and food security, and habitat. Unlike traditional structural measures, benefits of NNBF accrue over time due to the inherent dynamism of natural features. Capturing and quantifying the benefits requires a multi-scale approach to benefits analysis. This presentation provides an introduction to multiscale benefits analysis for NNBF to be included in project planning and engineering design.
Advancing social equity has been implicitly and explicitly central to international water resources policy for decades. However, water resources planning sometimes fail to fully embrace this crucial concept. Inclusion of equity within water resources infrastructure is often inhibited by an incomplete conceptual understanding of equity, a perceived lack of quantitative and qualitative equity metrics, unclear connections between equity and standard project planning frameworks, and the absence of concrete examples. In this presentation, we describe equity relative to dimensions of distribution, procedure, and recognition and identify metrics associated with each. We then map these dimensions of equity to different stages of a water resources project life cycle and highlight case studies illustrating best practices. By providing pragmatic responses to these four barriers, our intent is to facilitate a broader and deeper inclusion of equity in water resources planning, engineering, and management.
Adapting shoreline stabilization infrastructure and approaches to sea-level rise will require measures that improve federal, state, and local governance mechanisms; promote nature-based management practices; and change property owner behavior that affects coastal areas. This presentation focuses on shoreline stabilization law and policy, specifically the ocean-facing and estuarine protection laws in the Southeast and Mid-Atlantic states. Hear an overview of important distinctions between how we manage ocean-facing and estuarine-facing shorelines as well as a wide variety of values and interests driving them. Lastly learn how increasing the use of living shorelines will require policy innovation and new approaches to shoreline management at the state level.
This presentation reviews the current EWN ProMap and how proposed changes to the online database will increase our ability to track and assess how well projects are contributing to multiple environmental, economic, and social benefits. Proposed changes to the data entry field include information on what assessment methods were used to calculate benefits and how aspects of the project contribute to various ecosystem goods and services.
In this presentation you'll hear from representatives from Dow and The Nature Conservancy on Dow's commitment to identifying $1B in net present value through the Valuing Nature Goal, tools and work processes developed to support the goal, as well as challenges and successes in driving culture change. The team will also present on two projects in the goal portfolio including a remediation project that transformed a coal ash pond into a municipal stormwater wetland in Midland, Michigan and Dow's ongoing efforts to transition to zero freshwater intake via watershed level engagement and green and gray infrastructure at its site in Terneuzen, The Netherlands. Flyer and Bios (PDF)
Dr. Todd Bridges, Senior Research Scientist (ST), Environmental Science, National Lead, USACE EWN, US Army Corps of Engineers
Dr. Brian Bledsoe, UGA Athletic Association Professor Director, Institute for Resilient Infrastructure Systems, University of Georgia
The University of Georgia's Institute for Resilient Infrastructure Systems and the U.S. Army Corps of Engineers' Engineering With Nature Initiative have formed a partnership. N-EWN will be a clearing house for tools, products and outreach for nature-based solutions and natural infrastructure projects. Today we'll learn more about how N-EWN will work to prepare the engineers, ecologists and social scientists of the future and to advance our capabilities to deliver infrastructure solutions for communities and ecosystems. Flyer and Bios (PDF) Slides (PDF)
Dr. John Sabo, Professor, School of Life Sciences, Founding Director, Future H2O, Knowledge Enterprise Development, Arizona State University
Natural infrastructure offers a promising, soft-path solution to water security challenges, but the scientific framework for siting and measuring the efficacy of such restoration projects is nascent. In this study, we addressed this research gap in the Brazos River basin, the largest river basin in Texas, USA, and a basin undergoing intensifying extremes (drought and flood). Our analysis is motivated by the tension between changing extremes and the resilience of coastal manufacturing in the region, but with an eye for guiding corporate water stewardship "beyond the four walls" of manufacturing facilities and towards a broader basin-scale view of water stewardship. To this end, we developed a scientific framework and financial toolkit for quantifying the potential impact of constructed wetlands on streamflow (water outcomes) and cash flow (investment outcomes) compared to a purely built, or hard path, infrastructure project heightening an existing dam. Flyer and Bios (PDF) Slides (PDF)