About
The EWN Webinar Series covers important topics, best practices, cutting-edge research and the latest developments in this growing field that seeks to align natural and engineering process in order to efficiently and sustainably deliver economic, environmental and social benefits. These publicly accessible seminars are offered periodically and available for all sectors, individuals, and interested learners to engage with experts in the growing EWN community. If you are interested in receiving notifications for future seminars, please provide us with your contact information using the Contact Us feature. Previous seminars have been recorded and are available on this page along with applicable fliers, slides and videos. We hope you enjoy the seminars and welcome your feedback.
Entries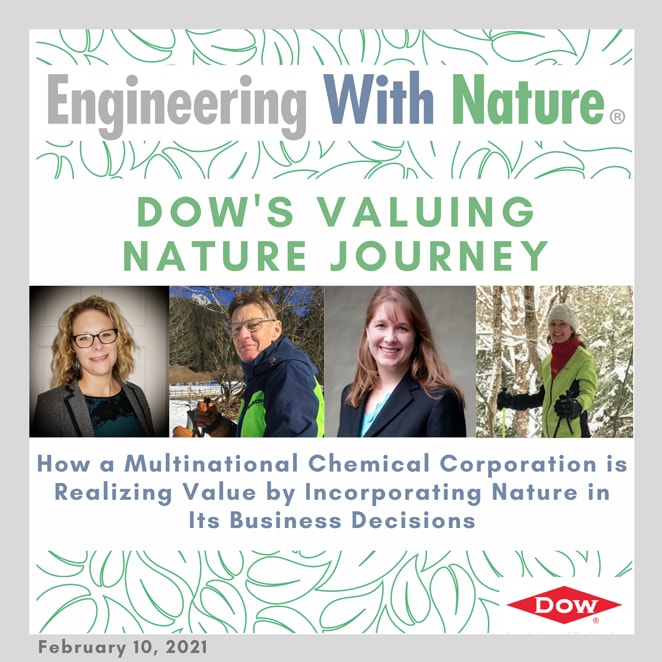 February 10, 2021 – 10 AM CT, "Dow's Valuing Nature Journey: How A Multinational Chemical Corporation Is Realizing Value By Incorporating Nature In Its Business Decisions"
France Guertin, Dow Environmental Technology Center, Engineered Natural Technology Leader and Valuing Nature Technology Leader
Jennifer Molnar, The Nature Conservancy,
Managing Director and Lead Scientist
Betsy Witt, Dow Environmental Remediation and Restoration, Remediation Leader
Niels Groot, Dow Environmental Technology Center, Water Subject Matter Expert and HZ University Water Technology Professor
Summary/Description:
In this presentation you'll hear from representatives from Dow and The Nature Conservancy on Dow's commitment to identifying $1B in net present value through the Valuing Nature Goal, tools and work processes developed to support the goal, as well as challenges and successes in driving culture change. The team will also present on two projects in the goal portfolio including a remediation project that transformed a coal ash pond into a municipal stormwater wetland in Midland, Michigan and Dow's ongoing efforts to transition to zero freshwater intake via watershed level engagement and green and gray infrastructure at its site in Terneuzen, The Netherlands.
Read More

What people are saying:

"Thank you so much for this presentation! This has probably been the best one I've ever seen. I agree with what one person said that this is very similar to how public agencies like State Parks etc works. I'd love to send this presentation to my coworkers if it can be made available. If this is ever presented again, I'm going to get them to all attend. Great job to you all!!"

"Wow — what a tremendous improvement!! As a former Dow employee, I remember the before picture well. Great work and what a terrific initiative and a great demonstration of the tool."

Flyer and Bios (PDF)
Seminar Video (mp4, 82 MB)




Resources

Dow Riverside wetlands as a business case applying nature goal work process
From ash pond to Riverside Wetlands: Making the business case for engineered natural technologies – ScienceDirect
Seadrift Wetlands retrospective financial analysis and LCA
A Financial and Environmental Analysis of Constructed Wetlands for Industrial Wastewater Treatment – DiMuro – 2014 – Journal of Industrial Ecology – Wiley Online Library
Early study completed with TNC and other collaborators
Building A Case For Green Infrastructure (nature.org)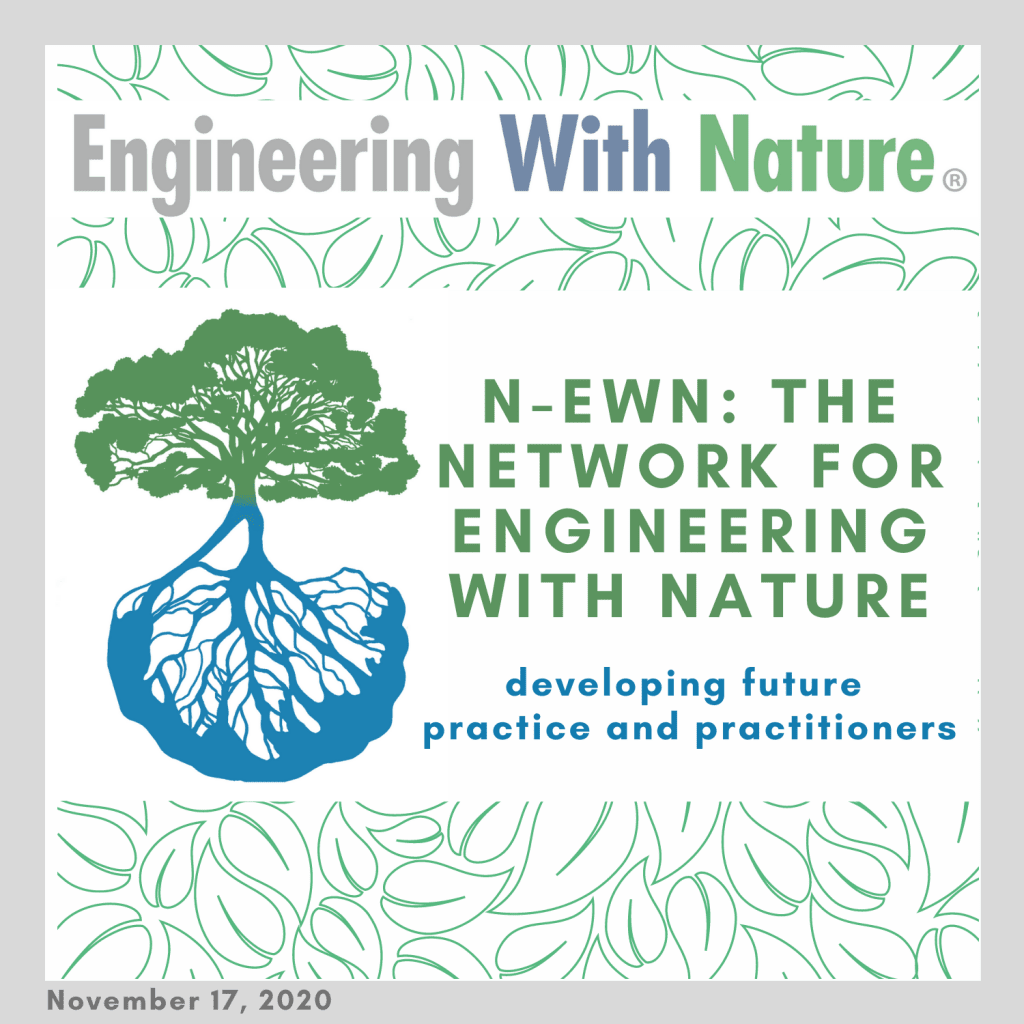 November 2020 – N-EWN: The Network for Engineering With Nature, Developing Future Practice and Practitioners
Dr. Todd Bridges, Senior Research Scientist (ST), Environmental Science, National Lead, USACE EWN, US Army Corps of Engineers
Dr. Brian Bledsoe, UGA Athletic Association Professor Director, Institute for Resilient Infrastructure Systems, University of Georgia
Summary/Description:
The University of Georgia's Institute for Resilient Infrastructure Systems and the U.S. Army Corps of Engineers' Engineering With Nature Initiative have formed a partnership. N-EWN will be a clearing house for tools, products and outreach for nature-based solutions and natural infrastructure projects. Today we'll learn more about how N-EWN will work to prepare the engineers, ecologists and social scientists of the future and to advance our capabilities to deliver infrastructure solutions for communities and ecosystems.
Flyer and Bios (PDF)
Slides (PDF)
Seminar Video (mp4, 208 MB)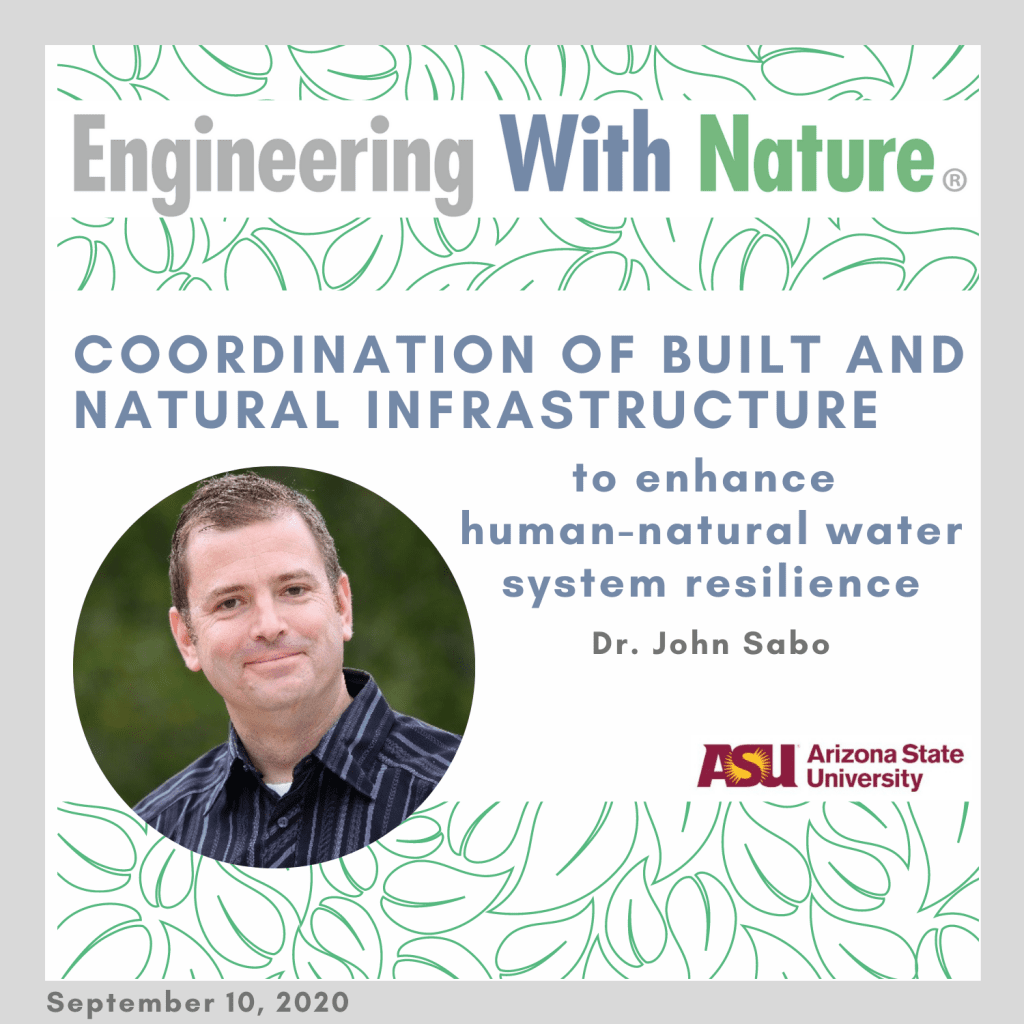 September 2020 – Coordination of Built and Natural Infrastructure to Enhance Human-Natural Water System Resilience
Dr. John Sabo, Professor, School of Life Sciences, Founding Director, Future H2O, Knowledge Enterprise Development, Arizona State University
Summary/Description:
Natural infrastructure offers a promising, soft-path solution to water security challenges, but the scientific framework for siting and measuring the efficacy of such restoration projects is nascent. In this study, we addressed this research gap in the Brazos River basin, the largest river basin in Texas, USA, and a basin undergoing intensifying extremes (drought and flood). Our analysis is motivated by the tension between changing extremes and the resilience of coastal manufacturing in the region, but with an eye for guiding corporate water stewardship "beyond the four walls" of manufacturing facilities and towards a broader basin-scale view of water stewardship. To this end, we developed a scientific framework and financial toolkit for quantifying the potential impact of constructed wetlands on streamflow (water outcomes) and cash flow (investment outcomes) compared to a purely built, or hard path, infrastructure project heightening an existing dam.
Flyer and Bios (PDF)
Slides (PDF)
Seminar Video (mp4, 122 MB)