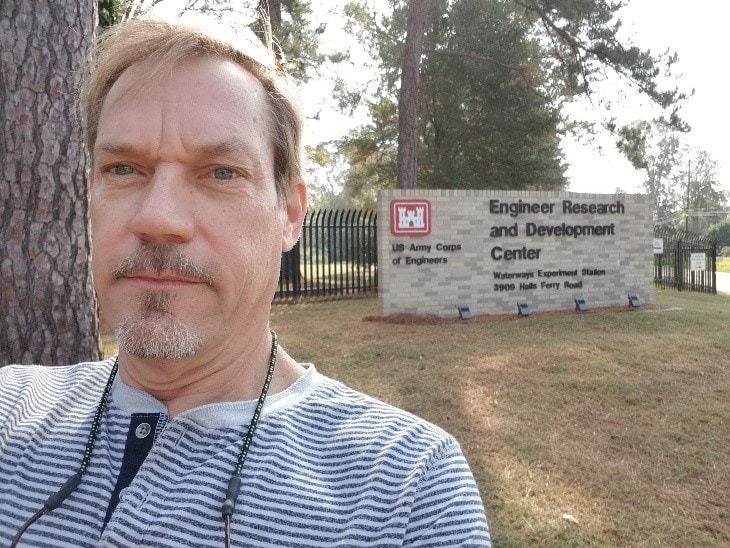 Dr. Chuck Theiling, PhD
RESEARCH AQUATIC ECOLOGIST
Chuck Theiling is an interdisciplinary large river ecologist with 25 years' experience on Illinois and Mississippi Rivers ecosystem monitoring, management, and restoration in the river-floodplain and watersheds.  Chuck worked closely with ERDC scientists since graduate school, and moved from Rock Island District to ERDC in 2017 to emphasize innovative civil works management opportunities in Beneficial Use of Dredged Material in commercial markets and restoration projects and to develop hydroponic nutrient reduction systems for HABs mitigation on Corps projects.  Understanding the influence of Corps of Engineers navigation and flood control systems has been the driving factor for Environmental Flows investigations that began in 1991 and have expanded to the Minnesota River Basin and other rivers through the Sustainable Rivers Program. 
LinkedIn: https://www.linkedin.com/in/chuck-theiling-193b3711/
Projects:
Environmental Pool Management – A collaboration with Rock Island District and the Sustainable Rivers Program (SRP) to present Lake Red Rock EWN case studies and collect water quality data.  Four USACE funding elements support various parts of a comprehensive biophysical evaluations of water management actions.  EWN will build a web page for other SRP participants to learn about new management alternatives.
Beneficial Use of Dredged Material
Soft Substrate Island Design Workshop – Building ER project in and with soft substrates presents many engineering challenges. UMRR engineers and EWN landscape architects will meet to discuss current practices and propose alternative techniques for evaluation as adaptive management on future projects.
Conway Lake Soil Investigations – UMRR and Navigation Operations have built many islands using a common method of layering backwater mud over sand from navigation dredging to create habitat islands. The projects are generally successful but there is variability in vegetative planting success. Adaptive management study plots were included in the project to evaluate to effect of mud thickness. District resources evaluate vegetation only, EWN understands and supports researching the role of soil development on vegetation outcomes. Pilot studies in 2020 support this project and other UMRR projects are testing other soil alternatives like blended soils.
Ecosystem Goods and Services and Social Valuation – I have supported ERDC EGS policy investigations since 2009 and am excited to see USACE policy changes that reflect that research. EWN is collaborating on several EGS/SV studies that I shadow to integrate outcomes and connect resources. I try to use EGS and economic considerations, benefit stacking, in developing private-public solutions to natural resource management.