Dr. Todd Bridges introduced the International Guidelines on Natural and Nature-Based Features for Flood Risk Management to the White House Coastal Resilience Interagency Working Group on September 21, 2021. The working group includes senior leaders from the Executive Office of the President and from agencies across the federal government, including NOAA, FEMA, HUD, DOD, DOI, EPA, NASA, DHS, DOA, and AmeriCorps.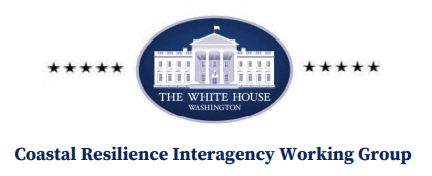 The presentation introduced the contents of the guidelines, overarching observations about NNBF, and the way forward following the publication of the guidelines. Robyn Colosimo from the office of the Assistant Secretary of the Army for Civil Works also participated in delivering the briefing.
The strengthened relationships with federal partners will propel the implementation of NNBF and the realization of the benefits associated. Interagency partnering has the additional benefit of coordinated federal investments, pooled resources, decreased duplicity, and more streamlined implementation.