The Artemis Program's Space Launch System (SLS) is scheduled for its first launch and mission next month (August 2022). In Greek mythology, Artemis is the twin sister of Apollo, an apt relationship for the program that will take humans back to the moon.
As a child of the 1960s, I grew up with space in my blood. Watching The Jetsons, Star Trek, waiting in line as a teenager to see the first Star Wars movie at the theater, and then discovering science fiction as literature, created in me an interest in science and technology and an excitement about the potential posed by the future. During the 1960s, the real-life foundation for the technological potential of the future was embodied by the National Aeronautics and Space Administration—NASA.
NASA was created by law with the signature of President Eisenhower in 1958. In 1961, NASA requested appropriations to purchase land on Merritt Island on the Atlantic coast of Florida to support the Apollo Program, a place that would eventually be called the Kennedy Space Center. The broader Merritt Island and Cape Canaveral Complex now includes more than 215,000 acres of federally owned and managed land that is home to four federal organizations: NASA's Kennedy Space Center, Cape Canaveral Space Force Station, the National Park Services' Canaveral National Seashore, and US Fish and Wildlife Service's (USFWS) Merritt Island National Wildlife Refuge.
Merritt Island/ Cape Canaveral Complex supports critical national assets and infrastructure as well as a truly stunning natural setting and diversity. The facilities at Kennedy Space Center and Cape Canaveral support about 50 private and publicly funded launches a year—with some projections estimating hundreds of launches annually in the future. The more than 43 miles of undeveloped, contiguous beaches along Merritt Island support some of the most significant sea turtle nesting in Florida (~14,000 nests in 2021, about 10% of nesting activity in Florida). The Indian River Lagoon, Mosquito Lagoon, Banana Creek, and Banana River and associated wetlands support 500 species of wildlife and 1,000 species of plants.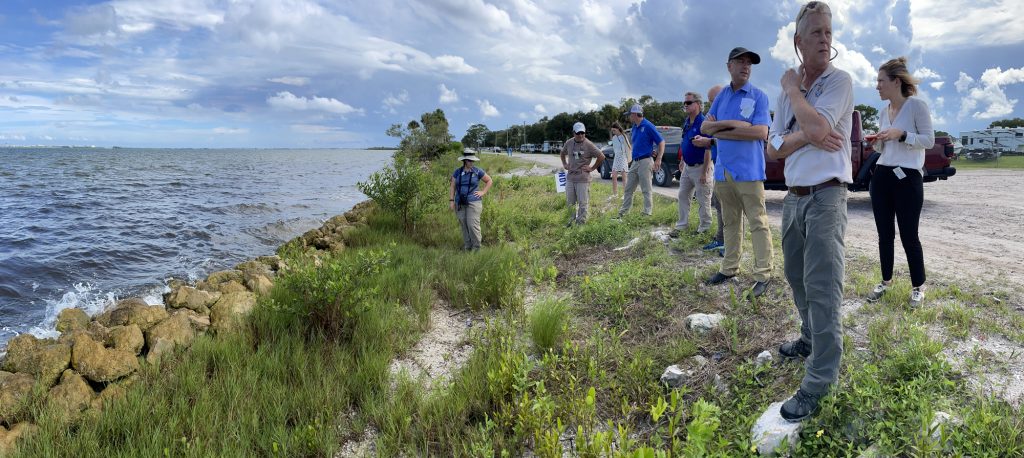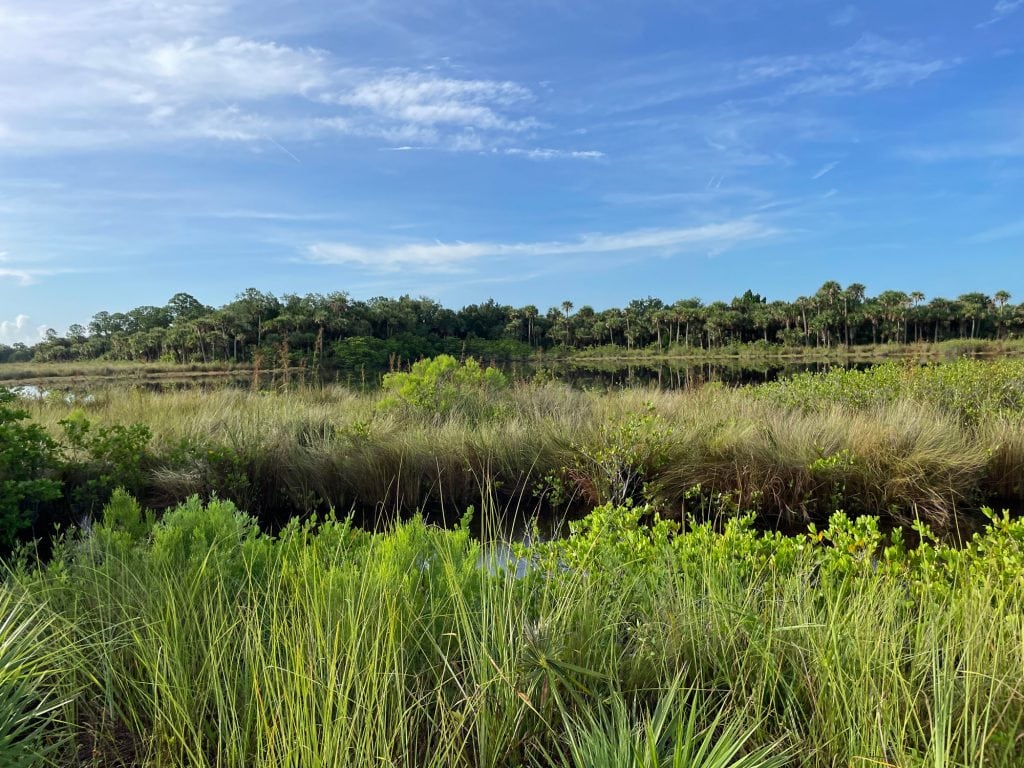 The system is also under stress. Hydrological modifications, nutrient loading, harmful algal blooms, shoreline erosion, and the exacerbating influence of climate change, sea level rise, and coastal storms are pressuring an already-vulnerable system. Seagrass has been decimated, with cascading effects for other species. More than 1,000 manatees have died in the system since 2020; two-thirds of those deaths were due to starvation. Seagrass and other aquatic plants are the food of manatees. An unexplained and rapid erosion event of the beach and dune near Space Launch Complex 46 in 2019 revealed a vulnerability that the US Space Force will address by constructing a hybrid dune (that includes a buried seawall) along that portion of the Cape, beginning in November 2022.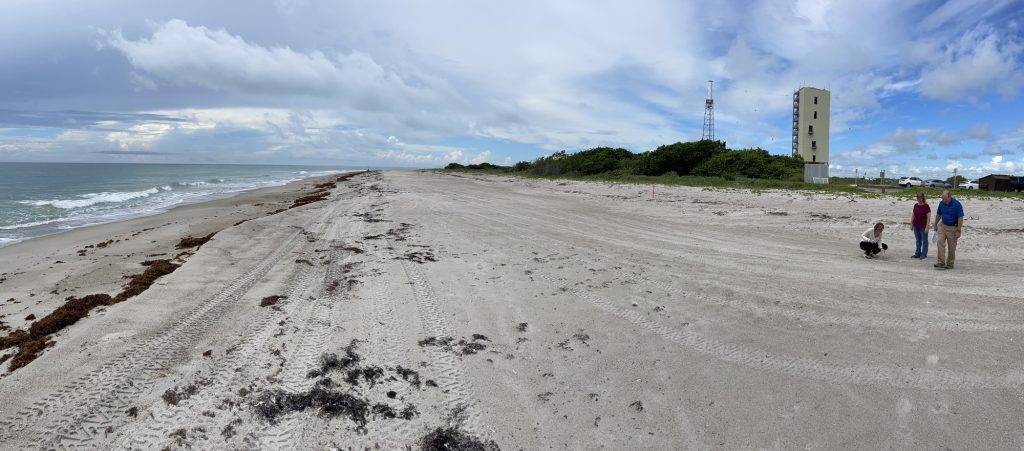 I first met Gian Basili, the Deputy State Supervisor (Florida) for Ecological Services with the USFWS, in August 2019. We shared an interest in developing natural infrastructure solutions for coastal problems. Gian invited me and Engineering With Nature to join a conversation about how natural infrastructure could support coastal resilience and the $5 billion rebuild underway at Tyndall Air Force Base, which was severely damaged by Hurricane Michael in 2018. (The great things that have and are being accomplished with natural infrastructure at Tyndall, through partnership, by the US Air Force, the USFWS, Jacobs Engineering, Engineering With Nature, and other organizations is a story for another time, but in the meantime see https://tyndallcoastalresilience.com/.)
For the last several months, Gian has worked to align the people and organizations on Merritt Island for a visit and conversation with Engineering With Nature. I recently spent part of three days at the island with Dr. Amanda Tritinger, the Deputy Program Manager for EWN and a very talented hydraulic engineer and modeler, and Gian and his many colleagues with USFWS, Space Force, and NASA.
We covered a lot of ground over three days! I was awed by the place and impressed by the people. While our modern attention is focused on the last 60 years on this landscape, human history in this landscape dates back at least 6,000 years. This focal point of the US space program holds landmarks for the Mercury, Gemini, Apollo, and Space Shuttle missions and the growing private programs of SpaceX, Blue Origin, and others. The Space Force, NASA, and USFWS professionals who engaged us are committed to sustaining the integrated function of nature and human use in this landscape.
As we looked, listened, and talked, the opportunities that floated to the surface of my thoughts included
the value, progress, and learning achievable by four federal organizations collaborating on an integrated plan for coastal resilience that combines natural and conventional engineering
the prospect of using nature-based solutions to simultaneously address environmental (e.g., nutrient-loading impacts) and physical hazards (sea level rise and coastal storms)
developing true, multilayered solutions for comprehensive resilience by working both on the land and in the water
applying the power of modern technology to develop a more complete and accessible understanding of conditions, processes, drivers, and the work and power of natural infrastructure
These and many other thoughts and opportunities are scribbled on the pages of my field notebook.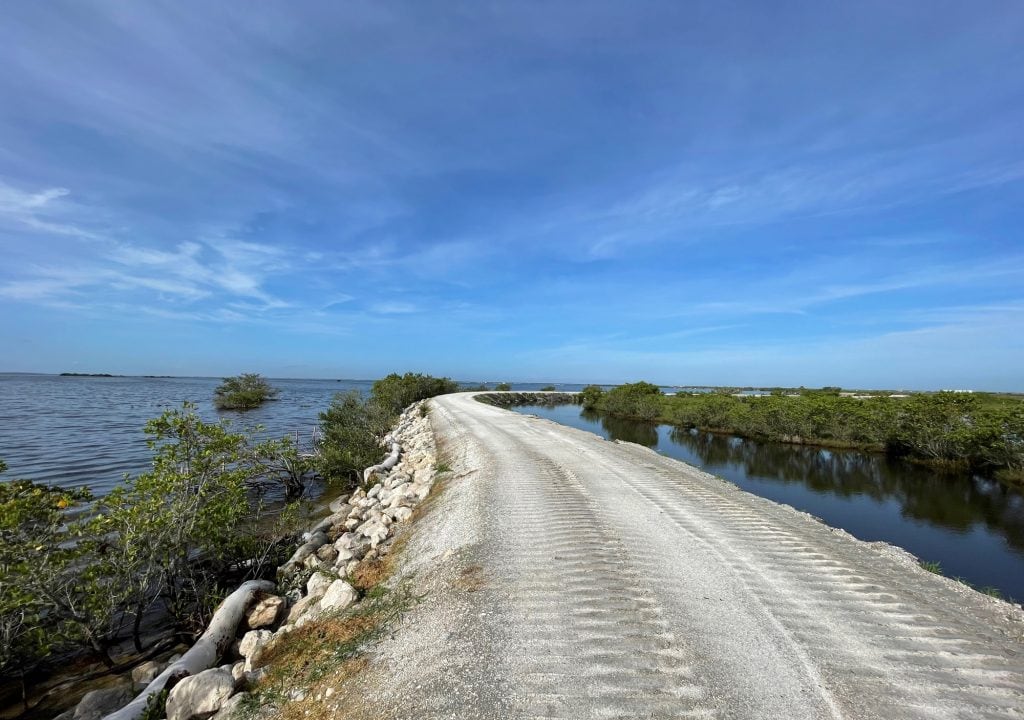 At the end of a long day in the field, we had the opportunity to see, up close, the Artemis Space Launch System. In a phrase, it was a notable experience. It was an impressive sight as it stood on Launch Complex 39B, which was used during the Apollo and Space Shuttle programs. We drove past the rocket to the adjacent beach line to see the dune that NASA built as a coastal resilience feature—the dune that now protects Artemis. The 3.6-mile-long dune was constructed and planted with dune grasses in stages over a 10-year period, beginning in 2010, using 500,000 cubic yards of sand delivered to the site by truck. Both past and future action of the ocean and its waves were in evidence as we looked at the dune, beach, and across the island at an approaching stormfront. Nature is dynamic—it's alive and powerful. It struck me that Artemis is indeed an apt name for a program protected by a dune. Artemis is the Greek goddess of nature and the hunt.