N-EWN
The Network for Engineering with Nature (N-EWN) is an active community of researchers, practitioners, and educators who are addressing the major infrastructure challenges facing our society while creating opportunities that align ecological, social, and engineering processes to achieve multiple societal benefits.
To view research projects, see member organizations, or to join the network visit the N-EWN website at n-ewn.org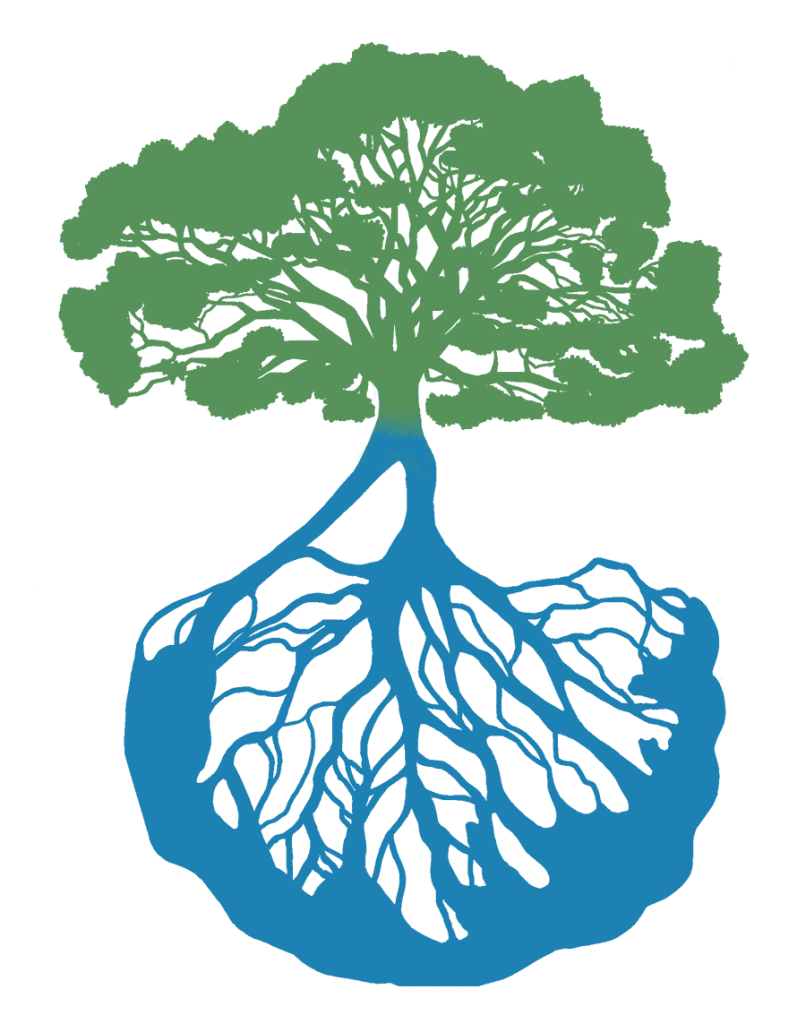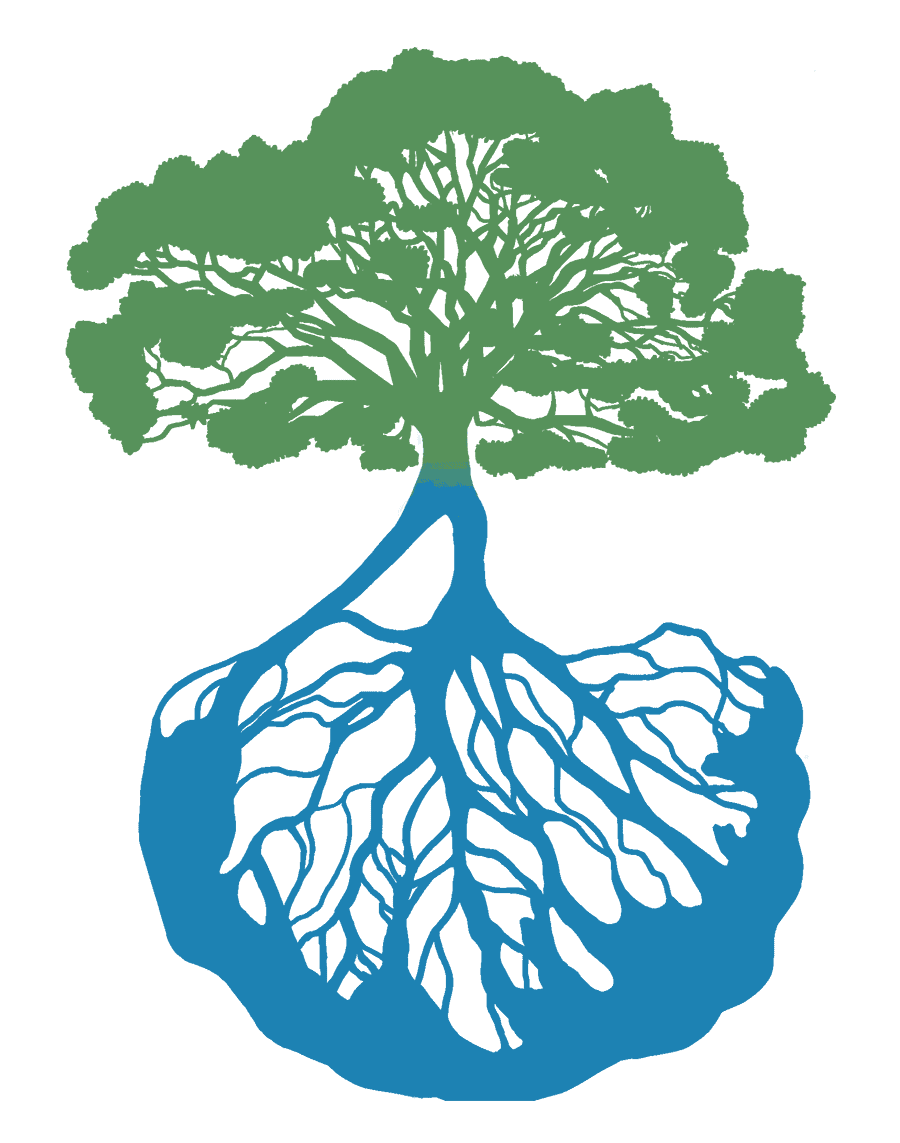 In an ambitious set of pilot projects, NEWN researchers will advance methods for using natural infrastructure to strengthen community resilience, create models and dashboards that allow designers to map out natural infrastructure benefits to society, and empower a new generation of engineers, ecologists, and social scientists through education and workforce development.
The N-EWN Knowledge Series
The Network for Engineering with Nature (N-EWN) invites you to join The N-EWN Knowledge Series: A Continuing Education Series about Engineering with Nature. Continuing Education Credits (1-hr) are available to all attendees who join live.
To register, please visit https://bit.ly/3gR9ADL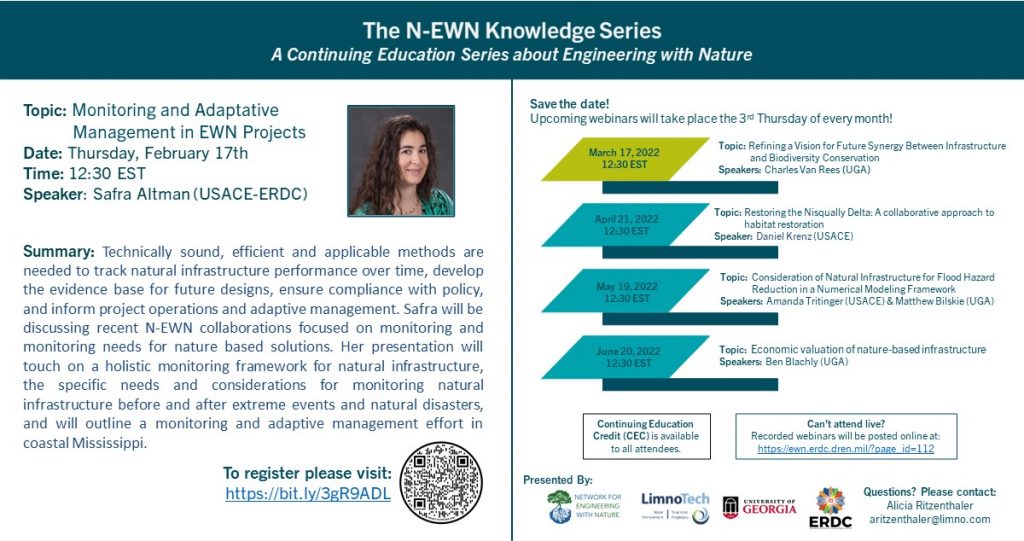 Technically sound, efficient and applicable methods are needed to track natural infrastructure performance over time, develop the evidence base for future designs, ensure compliance with policy, and inform project operations and adaptive management. Dr. Safra Altman discusses a holistic monitoring framework for natural infrastructure, the specific considerations for monitoring before and after extreme events, and outlines an example in coastal Mississippi. Also check out this EWN podcast with Dr. Altman, Adding Value to Climate Change Initiatives.
Natural and nature-based features (NNBF) provide a diverse suite of benefits to society, including flood risk reduction, socio-economic development, water and food security, and habitat. Unlike traditional structural measures, benefits of NNBF accrue over time due to the inherent dynamism of natural features. Capturing and quantifying the benefits requires a multi-scale approach to benefits analysis. This presentation provides an introduction to multiscale benefits analysis for NNBF to be included in project planning and engineering design.
Advancing social equity has been implicitly and explicitly central to international water resources policy for decades. However, water resources planning sometimes fail to fully embrace this crucial concept. Inclusion of equity within water resources infrastructure is often inhibited by an incomplete conceptual understanding of equity, a perceived lack of quantitative and qualitative equity metrics, unclear connections between equity and standard project planning frameworks, and the absence of concrete examples. In this presentation, we describe equity relative to dimensions of distribution, procedure, and recognition and identify metrics associated with each. We then map these dimensions of equity to different stages of a water resources project life cycle and highlight case studies illustrating best practices. By providing pragmatic responses to these four barriers, our intent is to facilitate a broader and deeper inclusion of equity in water resources planning, engineering, and management.
Adapting shoreline stabilization infrastructure and approaches to sea-level rise will require measures that improve federal, state, and local governance mechanisms; promote nature-based management practices; and change property owner behavior that affects coastal areas. This presentation focuses on shoreline stabilization law and policy, specifically the ocean-facing and estuarine protection laws in the Southeast and Mid-Atlantic states. Hear an overview of important distinctions between how we manage ocean-facing and estuarine-facing shorelines as well as a wide variety of values and interests driving them. Lastly learn how increasing the use of living shorelines will require policy innovation and new approaches to shoreline management at the state level.
This presentation reviews the current EWN ProMap and how proposed changes to the online database will increase our ability to track and assess how well projects are contributing to multiple environmental, economic, and social benefits. Proposed changes to the data entry field include information on what assessment methods were used to calculate benefits and how aspects of the project contribute to various ecosystem goods and services.
Background
The U.S. Army Corps of Engineers (USACE) in partnership with the University of Georgia (UGA) established the Network for Engineering With Nature (N-EWN). N-EWN was developed to accelerate the delivery of nature-based solutions and natural infrastructure in the public and private sectors.
The collaboration was initiated by USACE researchers led by Dr. Todd Bridges, the EWN national lead, and Dr. Jeffrey King, EWN program manager. Sixteen UGA researchers from ten different colleges and departments will apply their expertise to the acceleration of EWN. The project leader for UGA is Dr. Brian Bledsoe, a professor in the College of Engineering and Director of the Institute for Resilient Infrastructure Systems. The N-EWN partnership also draws from the expertise of the UGA's River Basin Center and Center for Integrative Conservation Research.
USACE presented a $2.5 million award to UGA to establish the collaborative network, which will be a clearinghouse for tools, products, and outreach for researchers and practitioners from both organizations working on nature-based solutions and natural infrastructure projects. Additionally, the partnership seeks to expand N-EWN by inviting other academic institutions, federal agencies, and private industry partners to join the network. Visit N-EWN