Join the first-ever USACE Engineering With Nature (EWN®) workshop focused on the application of additive manufacturing for nature-inspired infrastructure.
When: 7-8 February 2024
Where: US Army Engineer Research and Development Center (ERDC), Vicksburg, MS.
The main goal of this innovative and collaborative initiative is to explore and scale up nature-inspired 3D printed structures using natural materials. This endeavor aligns EWN® principles and USACE sustainable infrastructure goals, resulting in engineering solutions that provide social, environmental, and economic benefits. In addition to flood risk reduction and wave energy dissipation, these printed features have the potential to sequester nutrients, restore habitats, and provide other added benefits.
During the workshop, we will delve into crucial aspects, such as material selection feasibility, sustainability, resilience, and process controls. The aim is to achieve optimized 3D printed structural morphologies, ensuring successful habitat functionality and biocompatibility. We envision establishing interagency partnerships leveraging the collaborative EWN® community. This approach will enable intelligent planning and unlock the full infrastructure and ecosystem benefits of 3D printed nature-inspired infrastructure.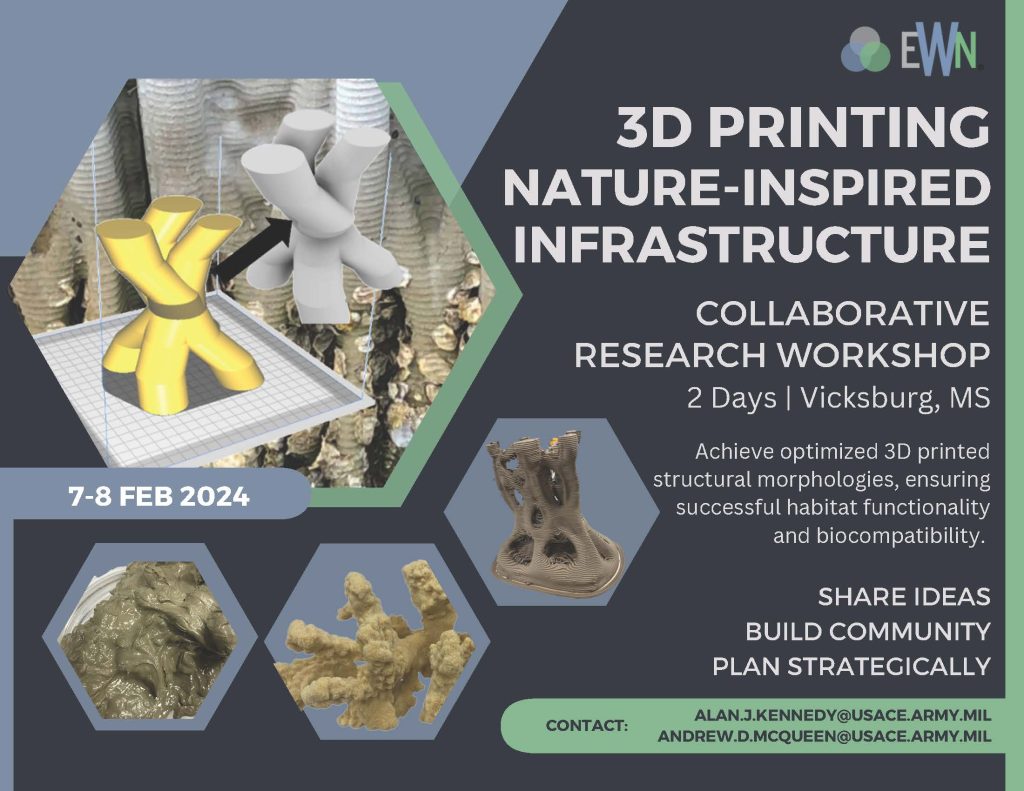 Related Podcasts: The Engineering With Nature Podcast S5 E1 – ERDC Labs Collaborating On Leading Edge 3D Printing Nature-Based Solutions