Celebrating Earth Day is a nudge, a friendly reminder, that without Earth, without nature, we would have no place to call home. By preserving nature and protecting the Earth, we are in turn, protecting ourselves.
For nearly 250 years, the U.S. Army Corps of Engineers has dedicated its service to not just better understanding the environment, but also to finding ways to protect it. Now, with the development and ongoing expansion of the Engineering With Nature program, USACE is focused on working WITH nature.
Spearheaded by ERDC's Dr. Todd Bridges, Army Senior Scientist for Environmental Sciences, EWN was established to study, develop and deploy natural processes as well as natural and nature-based features that are intentionally integrated into our nation's vital infrastructure. The goal is to maximize the benefits of projects and enhance resilience to natural events.
Ensuring environmental stability and resilience is among the top priorities outlined in the recently released USACE Research and Development Strategy.
Implementing Engineering With Nature
Enjoy these projects from the Engineering With Nature: An Atlas, Volume 2. View more inspiring projects from the Atlas Series.
Plover Habitat, Superior, Wisconsin, USA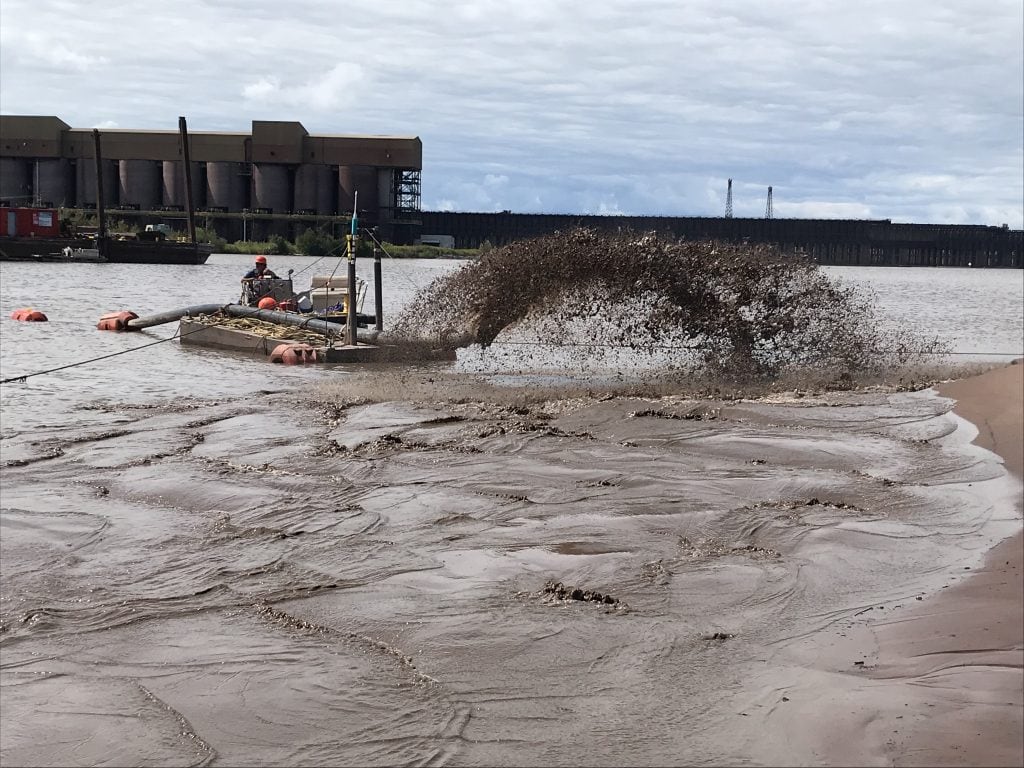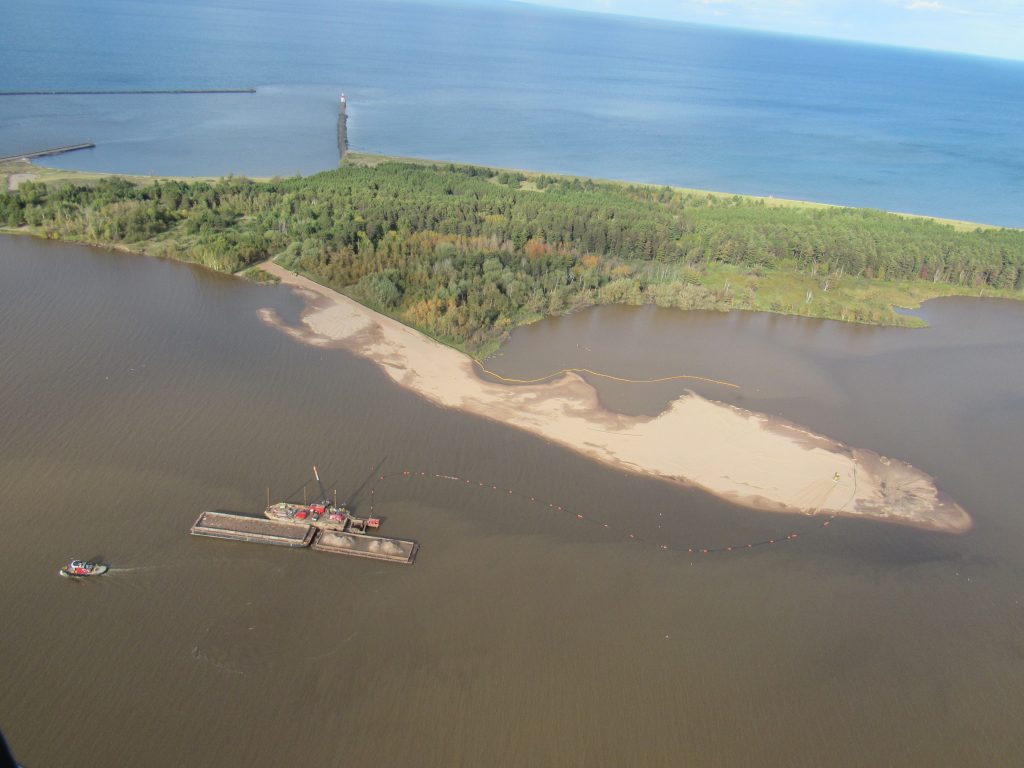 Providing new nesting and foraging sites for an endangered species. Historically, the St. Louis River Estuary—the largest freshwater estuary in North America and the headwater of the Great Lakes—supported breeding populations of piping plover (Charadrius melodus). While these tiny shorebirds are occasionally still spotted during their spring migration, they have not nested in the estuary since 1985. Piping plover, federally listed as an endangered species in 1986, prefer large isolated beach and dune habitats for nesting, and loss of habitat leaves only a few critical locations across the Great Lakes. The complex issues at the project site have resulted from historical waste disposal and land use practices, such as those from logging and paper mills and from dredging and filling aquatic habitat. With funding from the Environmental Protection Agency's Great Lakes Restoration Initiative, the state of Wisconsin led the effort for the beneficial use of dredged sediment in a region that has an international legacy of sediment contamination. The robust application of science, engineering, and collaborative discussion resulted in piping plover nesting and foraging habitat while reducing maintenance dredging requirements in the estuary.
Boardman River, Traverse City, Michigan, USA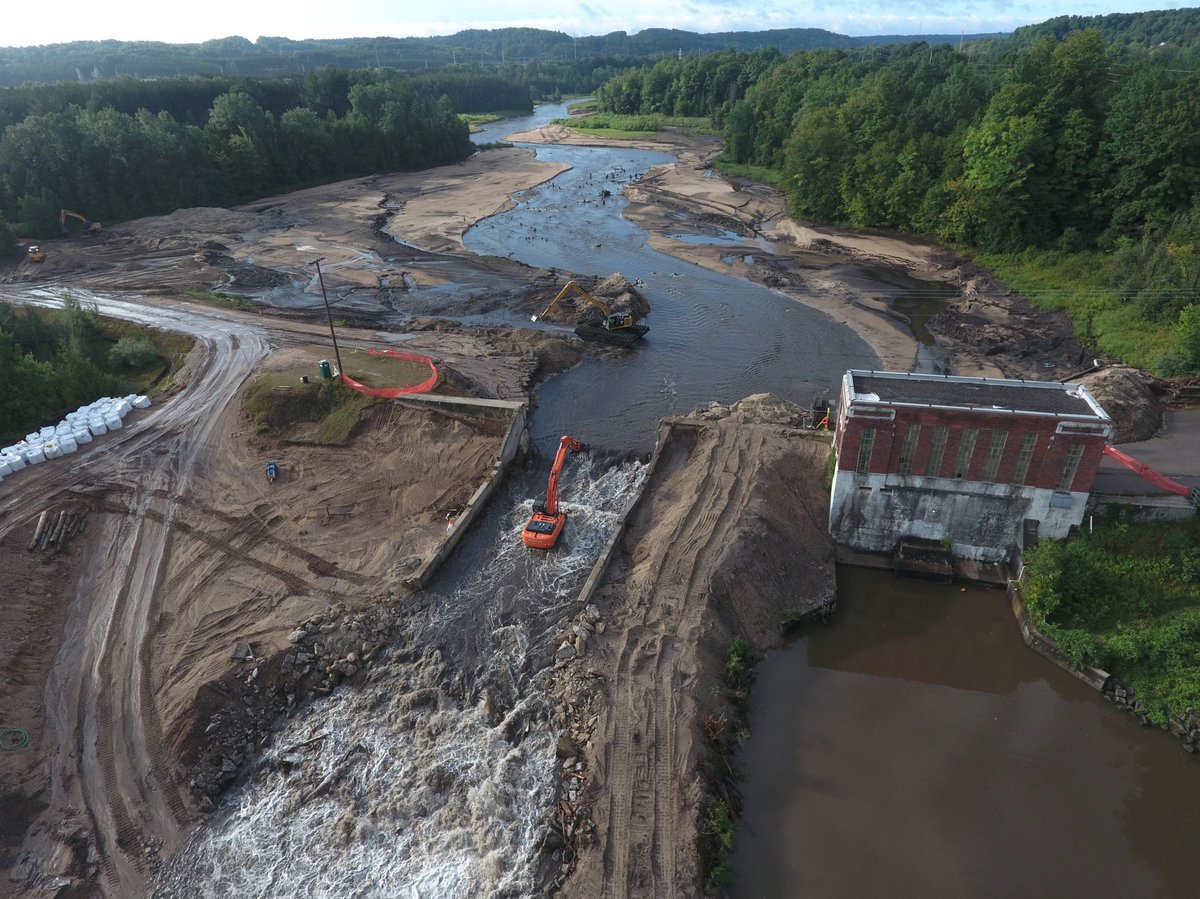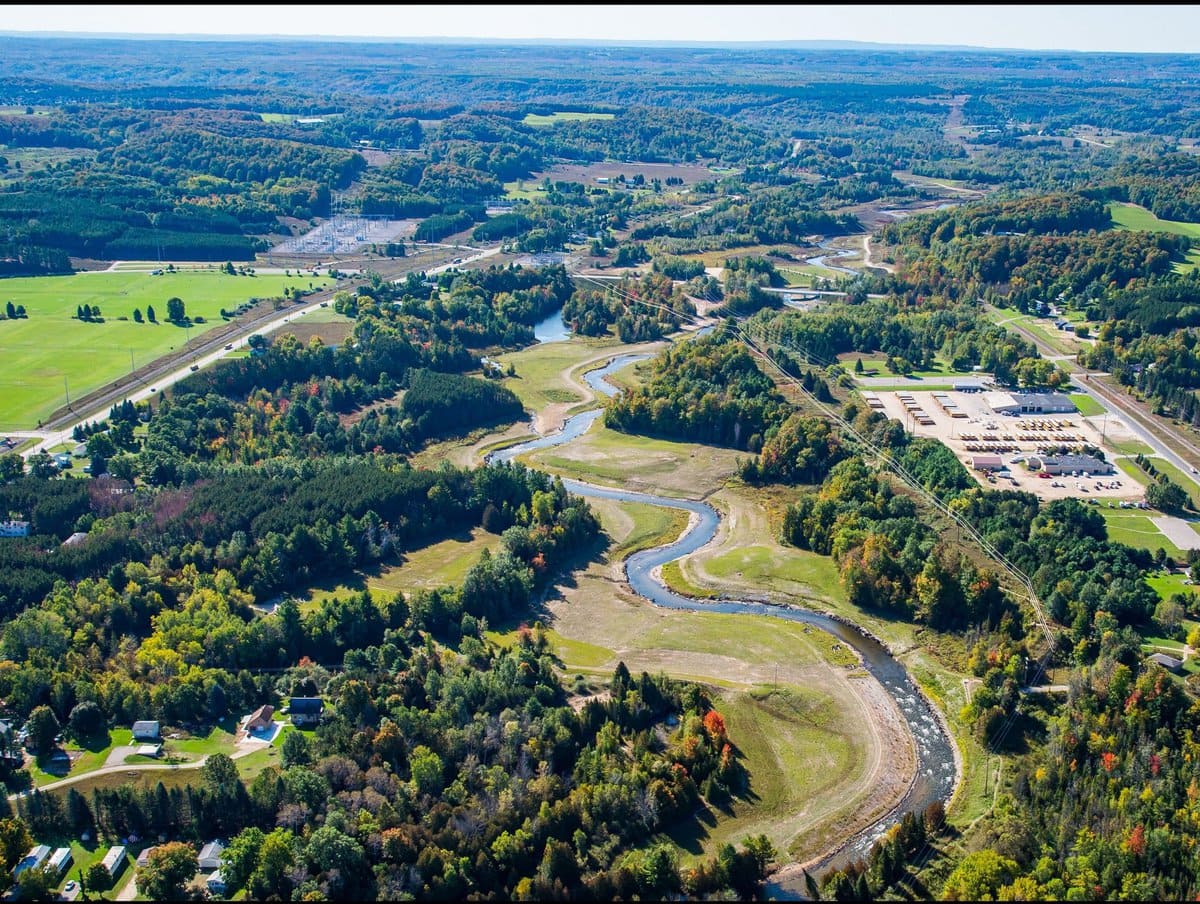 Returning a river to its original channel. The Boardman River is a top-quality trout stream; 58 kilometers have Blue Ribbon status, designating the high quality of the water for fish. For over 100 years, four dams on the river impeded upstream migration of the native fishery and created unnatural thermal impacts to aquatic organisms. With the 2012 removal of the Brown Bridge Dam, the uppermost barrier in the system, and removal of the Boardman and Sabin Dams in 2017 and 2018, respectively, the Boardman River Dams Implementation Team, U.S. Army Corps of Engineers (USACE)–Detroit District, and several other partners used primarily Great Lakes Restoration Initiative funding to reconnect 340 river kilometers to Grand Traverse Bay of Lake Michigan. This project also reinstated natural flow, improved aquatic habitat and reestablished
a rare cold-water fishery, improving both the mix and population of various species. Additionally, an innovative and unprecedented venture to allow bidirectional selective fish passage at the lowermost barrier, the Union Street Dam in downtown Traverse City, broke ground in 2020 and will be the largest dam removal initiative in the state of Michigan. Repairing a linkage that has been severed for over a century will guide future efforts in other similarly truncated watersheds in the Great Lakes region