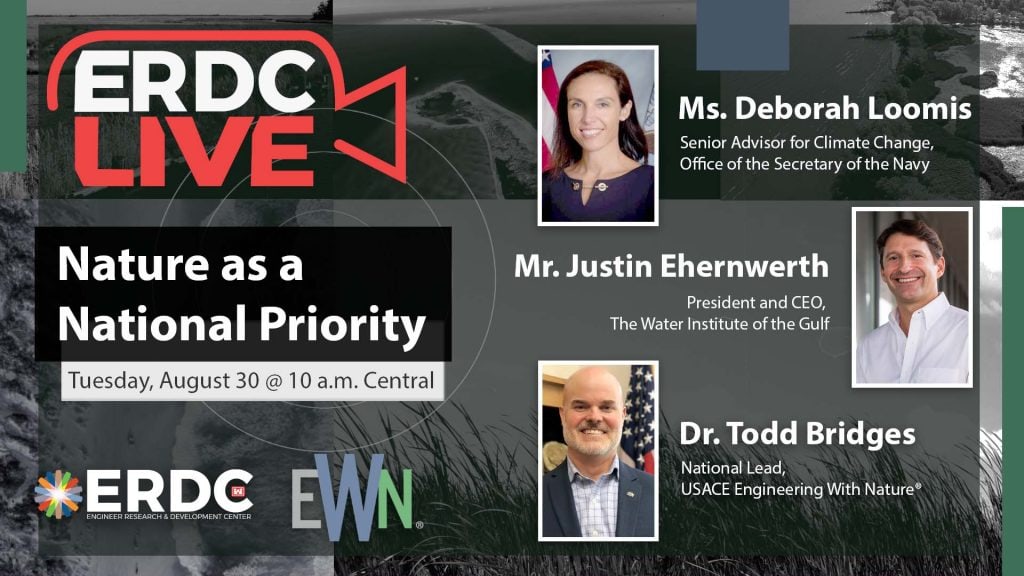 Make sure to attend a special ERDC Live Tuesday, Aug. 30 at 10 a.m. Central, featuring a dynamic panel of national experts leading the effort to incorporate natural and nature-based engineering solutions to enhance our nation's infrastructure and make our coastlines more resilient.
Guiding the discussion will be Dr. Todd Bridges, National Lead of the U.S. Army Corps of Engineers' Engineering With Nature® initiative. Bridges and host Shelley Tingle will be joined by Ms. Deborah Loomis, Senior Advisor for Climate Change for the Secretary of the Navy, and Mr. Justin Ehrenwerth, President and CEO of The Water Institute of the Gulf.
In addition to the growing focus on deploying natural infrastructure and nature-based solutions to tackle climate change and enhance resiliency, these leaders also will discuss how these engineering principles have been incorporated in recent federal guidelines, including a recent Executive Order issued by President Biden.
Don't miss this conversation.
Tuesday, August 30 at 10 a.m. Central
LinkedIn: https://www.linkedin.com/video/event/urn:li:ugcPost:6968613168377974784/
YouTube: https://youtu.be/ngLdzMUVwn0