Welcome to Episode 2 of Season 4! EWN Practice Leads play a critical role in broadening and expanding the application of Engineering With Nature practices and nature-based solutions. Host Sarah Thorne and Jeff King, Deputy Lead of the Engineering With Nature Program at the US Army Corps of Engineers (USACE), are joined by a roundtable of EWN Practice Leads who are all with USACE. Elizabeth Godsey is the Technical Lead for Coastal Engineering and Regional Sediment Management with Mobile District; Danielle Szimanski is a Project Manager and Ecologist with Baltimore District; Edward Brauer is a Senior Hydraulic Engineer with St. Louis District; and David Crane is an Environmental Resource Specialist with Omaha District.
Consistent with this season's theme—Up, Up, Up, with Nature-Based Solutions—EWN Practice Leads were established to enable the continued expansion of EWN. According to Jeff, "Back in March of 2021, we were experiencing a lot of growth within the EWN Program, and we realized that for this growth to continue, we really needed to reach beyond this national-level program and get out into the field more. We strived to identify individuals who would help us grow the program so, we put out a call internal to the Corps. Eddie, Elizabeth, Danielle, and Dave stepped up and answered the call. It's been really exciting working with all four of them."
The Leads had various levels of experience with EWN, but all were motivated by an opportunity to help expand the application of EWN principles and practices throughout the Corps by acting as the connection between the Engineer Research and Development Center (ERDC), and the districts. Elizabeth called it an "aha moment," describing it as "a leadership opportunity to be a mentor and to connect other practitioners with cutting-edge science and engineering with nature solutions." Danielle was excited about signing on: "I love the idea of sharing opportunities for EWN with others that haven't had that experience before—being able to put EWN at the forefront and show that even if you haven't done it before, you don't need to be afraid of it."
As Jeff says, it's a two-way opportunity: "For me sitting at a higher level, I do engage with the Corps's districts quite a bit, but there's an opportunity to learn more about what's happening on the ground. The Practice Leads provide incredible insight that helps EWN leadership really get the full picture of what is happening in the districts and where future opportunities are located. All four Leads are dedicated, motivated, and really inspire us to do more."
The Practice Leads lead the EWN Implementation Cadre—an informal network of US Army Corps of Engineers practitioners, representing a variety of disciplines across the enterprise, that is working to advance the application of EWN principles, practices, and technologies to deliver nature-based solutions (which will be discussed in more detail in Episode 3). The Leads represent two practice areas—Coastal and Riverine. We discuss their experiences applying EWN in their districts and share how EWN approaches, including large, landscape-scale nature-based features, can be translated to other practitioners. Elizabeth, a Coastal Practice Lead, describes the challenges Mobile District is facing along the Northern Gulf of Mexico coast associated with tropical storms, heavy rainfall, and rising seas: "Those coastal hazards can increase the stressors to our natural and manmade systems that serve as a frontline of defense and increase the risk to our growing coastal populations, critical infrastructure, as well as nationally significant habitats and species. Following Hurricane Katrina in 2005, Congress authorized the Mississippi Coastal Improvements Program to address long-term risk reduction. An element of this was to restore offshore Mississippi barrier islands. This resulted with estimated annual storm-damage-reduction benefits of over $20 million to the mainland coast." These were also discussed in S2E1: Expanding Engineering With Nature.
Danielle, a Coastal Practice Lead, describes work being doing in the Chesapeake Bay on the Swan Island Project that has been mentioned in previous podcast episodes (S1E5: Collaborating to Create Wildlife Habitat While Restoring Islands and Improving Community Resilience and S4E1: Scaling Up, Up, Up with CSTORM and EWN). The Swan Island restoration is intended to work as a natural breakwater against storm impacts to protect coastal areas by using dredged material to increase elevation, along with vegetation (on shore and submerged). The data gathered is being used to improve modeling. "There's been a lot of work across agencies to be able to combine all this information together for the CSTORM model so we can use it, not just in the Chesapeake Bay but across the nation for other island restoration projects, to be able to reduce these storm impacts." A couple of articles about the model have already been published; and once finalized, the model will be available for anyone to use. The hope is that it will enable completion of more natural breakwater projects by the Corps. As Jeff notes, sharing how EWN is being applied in the districts is important as it serves as a model for other districts.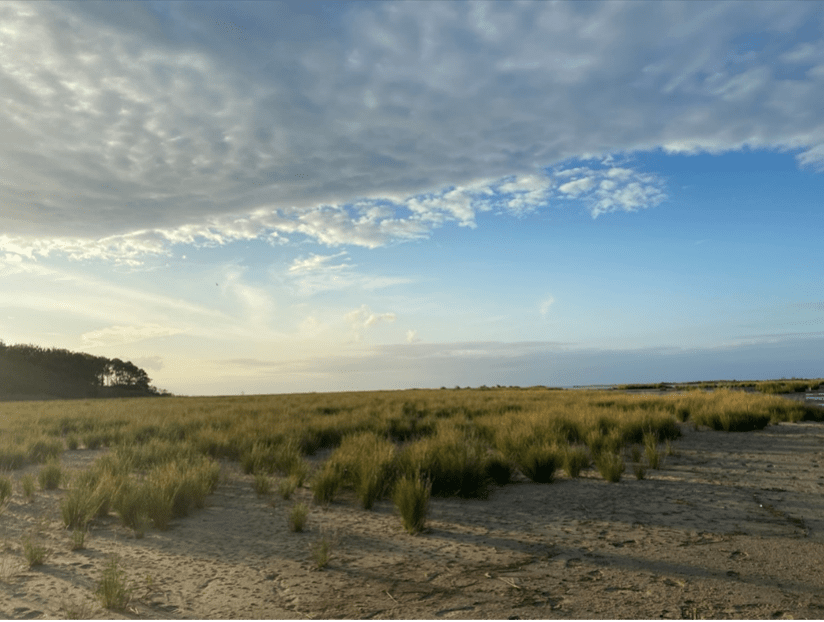 Eddie, a Riverine Practice Lead, describes some of the challenges St. Louis District faces in its riverine systems, which he notes have been engineered for decades. "We're having to go back and reimagine the way that we're implementing solutions, finding other ways that we can, for instance, have navigation on a system but also create additional habitat without increasing flood risk. It's really important to understand that there are many people with diverse needs out there that we need to accommodate. The solution to both of these problems are Engineering With Nature fundamentals—looking at this as a system and incorporating other people's benefits and needs and partnerships."

Dave, a Riverine Practice Lead, has been doing innovative work in Omaha District: "It's been neat finding ways to incorporate nature-based features, not only in ecosystem restoration projects but across the full spectrum of our mission." He adds, "There's a lot of talk about aging infrastructure throughout the country. Maybe levees aren't something that a lot of people think about when they think about aging infrastructure, but some flood risk management infrastructure, including levees, are almost a hundred years old. In large rural areas along the Missouri River, they've been damaged by floods and been repaired in place. Over time, it takes a toll. As we repair flood risk management infrastructure, we're partnering with conservation programs and NGOs and thinking differently about constructing things like setbacks. These can help address ecosystem restoration while improving the infrastructure because you're able to rebuild to modern levee design standards that are more resilient and can withstand over topping without as much erosion damage."
As we close, Jeff highlights the value of the EWN Practice Leads: "This group of Practice Leads are creating real boots-on-the-ground projects and they're expanding the practice of EWN in their own work, while also being leaders, coaches, and mentors for others that they work with on a regular basis." Sarah and Jeff invite the Leads to return for Season 4 Episode 3 to talk about how they're solving challenges, advancing EWN implementation through the EWN Cadre, and sharing what they are learning with other practitioners.