Engineering Islands for Increased Coastal Resilience
The EWN® Program supports nature-based solutions that reduce coastal storm and flood risks while providing environmental and socio-economic benefits. Combining the beneficial use of dredged sediments with the restoration or creation of islands increases habitat, recreation, keeps sediment in the system and reduces coastal storm and flood impacts. Our team of scientists and engineers along with our partners collaboratively pursue novel ways of approaching creation and restoration of islands that produce the desired engineering outcomes while also achieving substantially greater environmental and social benefits.
Islands often consist of multiple habitats such as beaches, dunes and marsh which is essentially equivalent to a 'multiple lines of defense' strategy where combined, these habitats have a greater capacity to reduce waves and erosion than a single habitat type alone. Regardless of their size and habitat composition, islands have the potential to increase coastal resilience by reducing waves and erosion to nearby shorelines, while providing habitat and recreation opportunities.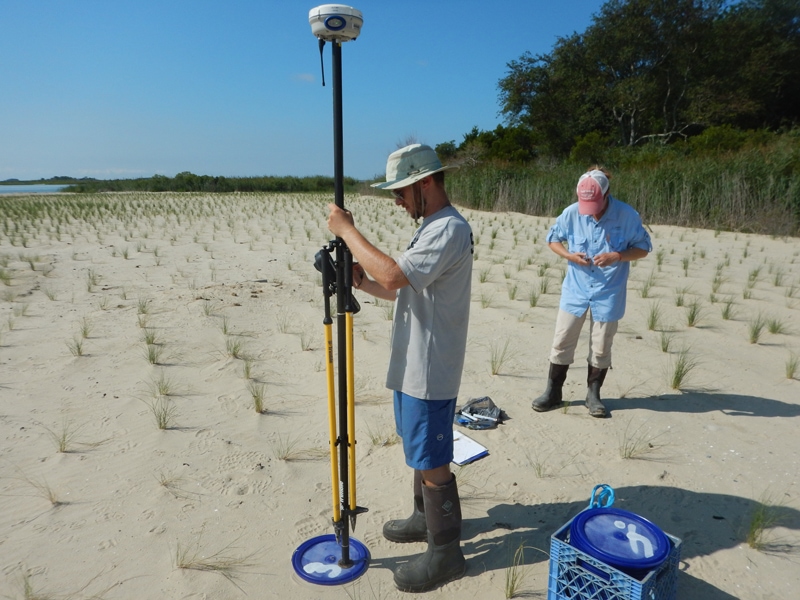 However, many islands are being lost at an alarming rate along the Gulf of Mexico and Atlantic coast. The degradation and loss of islands is due to the combined processes of wave action, climate change, subsidence, and inadequate sediment input. Restoration or creation of islands using dredged sediments keeps the sediment in the system, helping them to keep up with sea level rise.
Despite the coastal resilience benefits of islands, perceived uncertainties related to their ability to sufficiently reduce coastal storm and flood impacts, is considered a barrier to the implementation of Island beneficial use projects. Among these uncertainties are questions about the long-term performance of islands relative to conventional engineered solutions and their ability to adapt to changing conditions such as sea level rise as they grow and mature over time. In addition, ecological uncertainties related to the replacement of subtidal habitat with higher elevation habitat, known as 'habitat trade-offs' are also cited as a barrier to implementation.
Given the potential advantages of islands, EWN seeks to address these uncertainties with science-based investigations of island performance, impacts, and benefits through collaborative multi-disciplinary efforts. Through a series of case studies led by USACE Districts and others, we highlight the role of islands in providing the resilience, environmental and socio-economic benefits to the communities and the ecosystems they reside in.
Constructed along a 1.2 mile stretch in the west side of Lake Worth Lagoon, Snook Islands near downtown Lake Worth, Florida, are a series of mangrove islands, vegetated breakwaters and oyster reefs (living shorelines). A total of 10.7 acres of red mangroves, 2.8 acres of Spartina marsh, 3.3 acres of oyster reef, and approximately 57 acres of seagrass recruitment area was created by 2013. Fish and wildlife usage at the project site increased dramatically after construction. In addition, approximately 4,500-linear foot portions of the failed shoreline armoring was replaced with a soft, vegetated shoreline. The mangrove islands and oyster reefs reduce wave energy, stabilizing the formerly eroding shoreline. Public use amenities, including a boardwalk, fishing pier and kiosks, educate the public on the importance of living shorelines; while the day-use docks provide boater access to downtown Lake Worth, generating revenue for local businesses.
Construction of the bird islands began in 1978 when the New Orleans District (MVN) began to regularly maintain Baptiste Collette Bayou navigation channel. Since the initial channel construction, over 1,000 acres of coastal habitat (e.g. wetlands, islands) have been created by placement of dredged material from routine channel maintenance. The island habitat was created to serve as nesting habitat for a wide variety of shorebirds. In August 2020, over 50,000 seabirds were observed nesting on one of these islands; Gunn Island established in 2014. The islands' exposure to the open waters of the Gulf of Mexico result in degradation of the islands over time. However, the availability of sediment dredged from the channel offers a reliable and sustainable supply of clean sediment for maintaining island structure and multiple environmental and socio-economic benefits.
Swan Island is a 25 acre island that serves as a natural wave break for the Town of Ewell, Maryland. Prior to sediment placement, Swan Island was comprised of low lying and highly fragmented marsh. In 2019, the USACE's Baltimore District beneficially used approximately 60,000 cubic yards of dredged sediments to raise Swan Island elevations to support dune, high and low marsh vegetation types. Ongoing multi-disciplinary investigations include analysis of the effects of this restoration on Swan Island's long-term resilience and quantification of the risk reduction that Swan Island provides to nearby shorelines. The outcomes from this study will be used to quantify and predict performance and the environmental benefits derived over time for other created and restored islands.
Peanut Island, is an 86 acre island located in Lake Worth Lagoon within Palm Beach County, Florida. Originally constructed in 1918 from dredged sediments obtained during the creation of Lake Worth Inlet, it now totals 86 acres. While a portion of the island is still available for dredged sediment placement, the perimeter of the island has been transformed to create intertidal and subtidal habitats like mangroves and reefs and to provide recreation opportunities such as swimming, fishing and snorkeling. The project was designed to improve the tidal flow within the snorkeling reef system and provide increased shoreline protection and reef habitat on the island's east shore. These breakwaters provide shoreline protection as well as artificial reef habitat in an area that was void of natural resources. The projects at Peanut Island have improved tidal flushing and provided needed habitat and recreational opportunities while performing as a buffer to the city of Riviera Beach reducing shoreline erosion.
Beginning in 2002, sediment dredged from Horseshoe Bend of the lower Atchafalaya River was strategically placed mid-river within a 350-acre area immediately adjacent to the navigation channel and upriver of a small naturally forming island. The mounded sediment dispersed naturally by the river's currents to self-design the unconfined island over time. While the strategic placement was initially conducted to reduce dredging costs and promote the island's growth, additional environmental, navigation, and climate change benefits were realized including creation of island habitat that supports a diverse assemblage of native plants and wildlife. USACE conducted studies to better understand the hydrology of the river used to transfer the mounded material onto the island. Biology, ecology, and hydrodynamics were examined to document the island's maturation and determine the effectiveness of this approach in terms of restoring, creating, enhancing, and protecting the coastal Louisiana landscape.
Mordecai Island provides habitat for wildlife and nesting shorebirds and serves as a wave-break protecting the adjacent developed shoreline of Beach Haven, NJ from wave induced erosion in Barnegat Bay. Prior to restoration, chronic erosion resulted in a breach that effectively separated the island into north and south lobes. In 2015, the USACE's Philadelphia District beneficially used approximately 30,000 cubic yards of dredged sediment to create a seamless transition between the north and south lobes. USACE scientists and their partners are working to quantify the benefits of this beneficial use practice at Mordecai Island.
Additional Resources
Whitfield, P. E., B. C. Suedel, K. A. Egan, J. M. Corbino, J. L. Davis, D. C. Carson, A. S. Tritinger, D. M. Szimanski, W. L. Balthis, J. Z. Gailani, and J. K. King. 2022. Engineering With Nature® Principles in Action: Islands. Technical Report, ERDC/ TR-22-9. Vicksburg, MS: U.S. Army Engineer Research and Development Center. http://dx.doi.org/10.21079/11681/44940