The USACE Philadelphia District has great opportunity to engineer with nature to support and restore natural and nature-based features that contribute to coastal resilience. The team has successfully completed multiple marsh restoration projects in New Jersey and looks for opportunities to continue the practice going forward.
Monica Chasten from the Philadelphia District, an EWN proving ground, spent the day with Mr. Ted Greenberg, Jersey Shore Reporter for the NBC affiliate out of Philadelphia, on the Dredge Murden. They observed the dredging and placement of sand for the Barnegat 1122 project. Monica shares that they are learning from the process at Barnegat inlet and will apply those lessons to other projects, "We are taking sand from where we don't want it in the channels and putting it where we do want it." Monica succinctly states, "It's engineering with nature. The natural processes are going to move the material from the nearshore onto the beach more like nature."
Stone Harbor and Avalon Marsh Restoration
In the summer of 2014, the USACE Philadelphia District partnered with state, local and non-profit organizations to beneficially use dredged materials to restore degraded marsh and create habitat for birds near Stone Harbor, New Jersey, on land owned and managed by the New Jersey Division of Fish and Wildlife Service. Initial monitoring confirms a number of shorebirds utilizing the project sites. Barnegat Bay Dredging Company served as the contractor.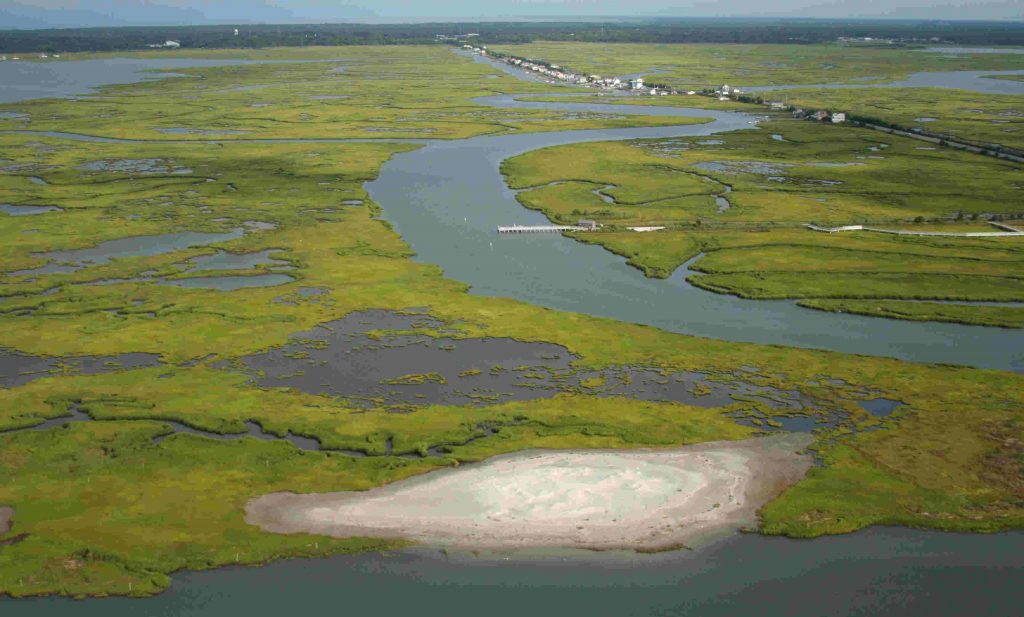 Mordecai Island Marsh Restoration
The USACE Philadelphia District completed dredging and placement operations in November of 2015 at Mordecai Island near Long Beach Island, New Jersey. USACE worked with the state and several non-profit organizations to dredge material from the federal channel of the New Jersey Intracoastal Waterway and beneficially use it to restore sections of the marsh that were eroded. Planting of the restored area will be done in spring 2016. Barnegat Bay Dredging Company served as the contractor.
Chasten Receives 2016 EWN Leadership Award
On 02 March 2016, Ms. Monica Chasten of the US Army Corps of Engineers Philadelphia District was presented the 2016 Engineering With Nature (EWN) Leadership Award for her contributions to the EWN program over the last six years. Ms. Chasten was presented with the award by Dr. Todd Bridges, ERDC Senior Research Scientist and EWN Program Manager. Ms. Chasten and the Philadelphia District, as an EWN Proving Ground, have been incorporating EWN practices and principles into its New Jersey projects where dredged material is being beneficially used to restore degraded marsh and create habitat for a variety of wildlife. The award was created to recognize outstanding EWN proponents who provide their time and expertise to advance EWN throughout the Corps.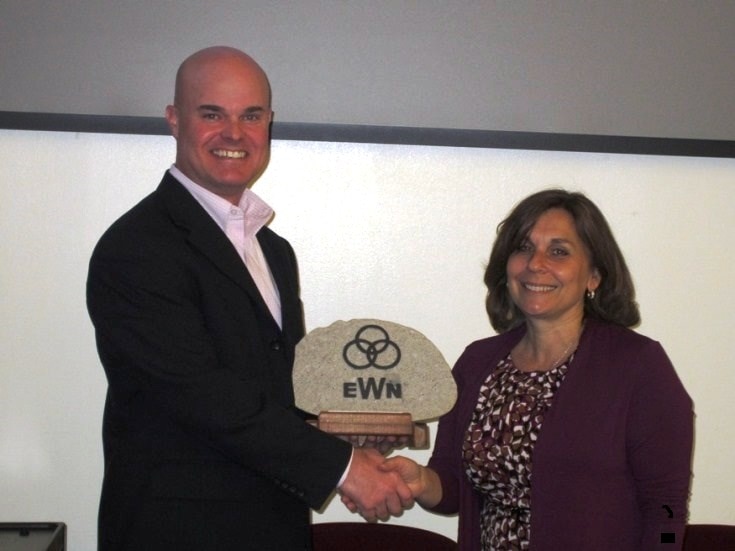 Resources